February 06, 2020
Work Begins on Ramp to Improve Access from New York Bridge
New York's Metropolitan Transportation Authority (MTA) has announced the start of work on a new ramp to reduce travel times for drivers leaving the 83-year-old RFK Bridge.
The work to build the ramp is being done under a 15-month, US$48 million design-build contract that was awarded to Judlau Contracting.
The new ramp will eliminating a longstanding detour and allow motorists to bypass city streets for the first time since bridge was completed in 1936. It will connect the RFK Bridge to the northbound Harlem River Drive, which links the RFK Bridge to the George Washington Bridge.
The average motorist using the bridge for a daily commute will save nearly nine hours per year of travel time, MTA estimates, compared to the old route pictured below.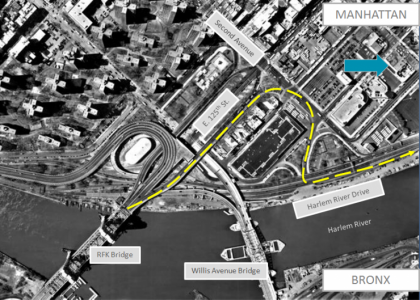 The new route – a ramp supported by 11 vertical support piers – will start as a right-hand exit branching off from the Manhattan-bound span of the bridge at an elevation of 13.7m above ground level. The ramp will rise slightly to an elevation of 17.4m as it passes over the Willis Avenue Bridge, then will slope downward until it touches down in the left lane of the Harlem River Drive.
The project is being overseen by MTA Construction & Development in tandem with MTA Bridges & Tunnels, which owns, operates and maintains the RFK Bridge.
The MTA has partnered with the New York City Department of Transportation (DOT) to expedite the project and deliver it cost-effectively. The two agencies have worked together to ensure the alignment of the DOT's original design for the Harlem River Drive reconstruction project would be able to accommodate the construction of the new connector ramp. For example, the RFK ramp will be built on some of the support piers that were part of the DOT's recent reconstruction of the southbound Harlem River Drive.
Read more at Bridge, Design & Engineering
---
New York Build is the leading construction show for New York and the Tri-state area. Gain access to 12 specialized summits, 250+ exhibitors, 230+ speakers and connect with 20,000+ registered visitors.