12 Nov 2019
WXY replaces juvenile detention center in The Bronx with affordable housing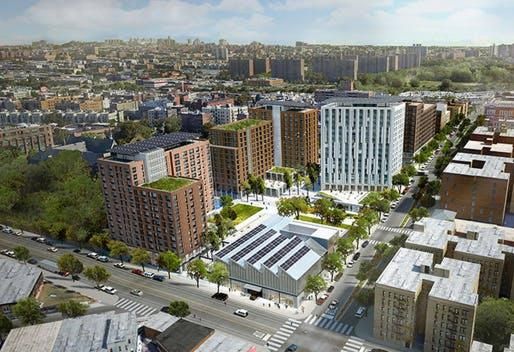 WXY architecture + urban design, Body Lawson Associates, and the New York City Economic Development Corporation (NYCEDC) have broken ground on a $300 million redevelopment plan that will replace the defunct Spofford Juvenile Detention Center in The Bronx with up to 740 units of affordable housing and a slew of community-serving uses.
Phase one of the project, the phase currently under construction, aims to bring 183 units of affordable housing earmarked for "extremely-low," "very-low," and "low-income" families, according to New York YIMBY. Within the total, YIMBY reports, 18 units will be made available to people who have previously experienced homelessness.
The site is marked by a collection of public plazas and tree-filled passageways. Image courtesy of WXY architecture + urban design.
Ultimately, over 17,000 square feet of retail, 56,000 square feet of light industrial uses, and 53,500 square feet of community facilities will be included on the site of what once was a decrepit and notorious juvenile jail. The project, dubbed The Peninsula by the project team, will also include 52,000 square feet of public open space and health and wellness elements, YIMBY reports.
The jail complex, formerly arranged as a series of long double-loaded corridors lined with cramped cells, is being demolished and replaced with a collection of freestanding mid-rise residential and mixed-use towers. The concrete wall carceral complex originally opened in the 1960s and shut down in 2011.
Site plan for the development showing project phases. Image courtesy of WXY architecture + urban design.
View of the proposed development showing the new sawtoothed corner structure. Image courtesy of WXY architecture + urban design.
A new sawtoothed community retail center will anchor the development's southwest corner while a rectilinear network of pedestrian streets dotted with lawns and public plazas will connect the extremities of the block-wide site.
The project's affordable housing buildings will blend in with surrounding housing. Image courtesy of WXY architecture + urban design.
The buildings will feature red brick facades and punched windows. Renderings show many of the buildings topped with solar panels. Phase one of the project is due to be completed in 2021 while the entire development is slated for a 2025 debut.
Source: Archinect News
---
New York Build is the leading construction show for New York and the Tri-state area. Gain access to 12 specialized summits, 250+ exhibitors, 250+ speakers and connect with 20,000+ registered visitors.